Fuliza
What is Fuliza?
Fuliza is an overdraft facility that allows you to complete transactions such as Paybill, Lipa Na M-pesa, Buy Goods, and M-pesa cash withdrawals when you have insufficient funds in your M-pesa account.
The Fuliza overdraft facility is available to all Safaricom subscribers who use the Lipa Na M-pesa service.
To use Fuliza you need to have a prequalification limit that depends on your M-Pesa transaction history and stick to the terms and conditions of the service.
The maximum amount of fuliza loan that you can get is dependent on your Fuliza prequalification limit. Your prequalification limit will be determined by your M-Pesa transaction history, therefore, customers with high usage rates will likely have a higher limit than those with low usage rates.
You can repay the loan at any time within 90 days from the date of borrowing or before it expires, depending on whichever date comes first.
Read Also
Best Mobile loan apps in Kenya
How do I get a Fuliza loan?
To qualify for a Fuliza loan, you need to be registered with M-Pesa and have a minimum of KSh. 100 in your M-Pesa account. Once you are registered with M-Pesa, you can receive your Fuliza loan by dialing *234# and selecting the Fuliza option.
How do I repay my Mpesa Fuliza loan?
Follow these steps to repay your Mpesa Fuliza loan directly through the M-PESA menu:
Select "Lipa Na M-PESA" from the M-PESA menu
Select "Pay Bill"
Enter the Fuliza Paybill number 244247
Enter your M-PESA number as the account number and press OK
Enter the amount you wish to pay in KES and confirm that all details are correct before pressing OK
Who can access the Mpesa Fuliza loans?
Anyone who has a registered SIM card and an M-Pesa account can access the M-Pesa Fuliza loans.
That said, there are some basic requirements for accessing these loans:
You must not have defaulted on a previous Fuliza loan or not met the repayment deadline of the previous loan.
Your M-Pesa account must have sufficient funds to cover the transaction.
loan interest rate and charges

You are charged an interest rate of 15% per month which translates to 1.92% every day.

This implies that if you borrow Sh100 today, you will pay Sh101.92 after 24 hours. In case you borrow Sh1000, the amount payable after 24 hours will be Sh1019.2
Increase your M-Pesa account limit.
You should be able to increase your M-Pesa account limit by using one of the following methods:
Use the Safaricom website.
The Safaricom website also enables you to increase your daily M-Pesa transaction limit. You will first need to register for an online account at Safaricom.co.ke and log in with the correct details. Select 'Mpesa services' and then 'Mpesa settings.' Here, you can choose to change your PIN, select a new secret word, activate internet banking, or request a statement in addition to increasing your daily limit.
How to withdraw money from fuliza mpesa
When you are using fuliza mpesa, you simply can't withdraw the money from it. That is not how the service works.
You only use fuliza mpesa to pay for services that require payment at a till number in an organization or business.
You can only use your own mpesa account money to pay for things at till number outside of fuliza services.
In other words, if you have insufficient funds in your mpesa account and you want to pay for something at a till number outside of fuliza.
Then you will be required to borrow some more money so that you can make your payments.
If this happens, then the company will notify you that they accept payments via fuliza mpesa and they will give you all their details and the amount that needs to be paid through fuliza mpesa.
You will find this information on your screen before you are asked to enter your pin and confirm your payment transaction request…
What are fuliza terms and conditions
Eligibility for Fuliza M-PESA
To be eligible for Fuliza, you must:
Be an active M-PESA customer
Have completed at least 1 transaction every 30 days
Be within the age limit of 18 – 70 years
Have an active Safaricom line that has been operational for at least 60 days
Have never defaulted on any previous Fuliza loan.
How to fuliza mpesa loan step by step
In this section you want know how to exactly get the fuliza mpesa loan and use it, right?
Then, i just prepared simple steps you follow to get the loan and use to pay your services. Let's get started.
First, before you even think of taking a fuliza is knowing how much are allowed to borrow. This is because knowing your limit will helps save time trying request limit that you're not assigned to.
This begs the question; How do i check my fuliza mpesa loan limit?
How to check your fuliza limit step by step
To check your fuliza limit follow these steps below;
Step 1: Head over to your default phone app.
Step 2: Dial *234#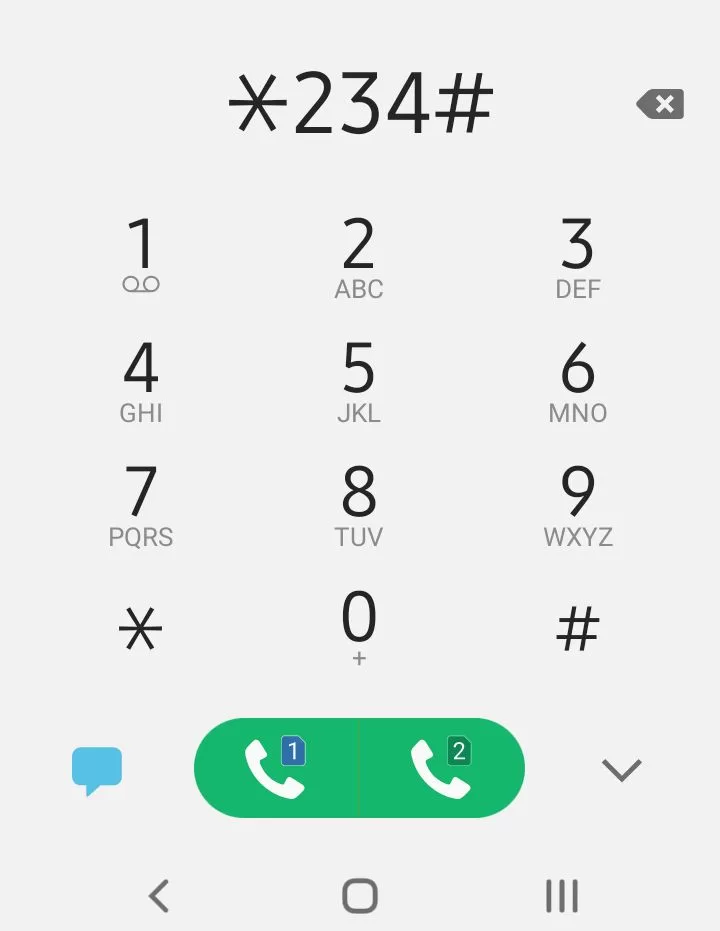 Step 3: In the menu- Select " Fuliza M-pesa" option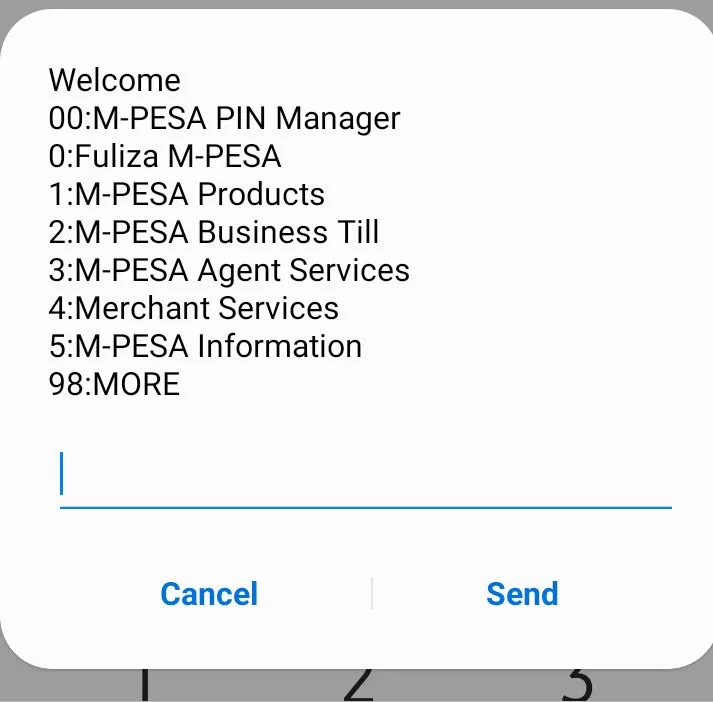 Step 4: Then Select "Check my limit" option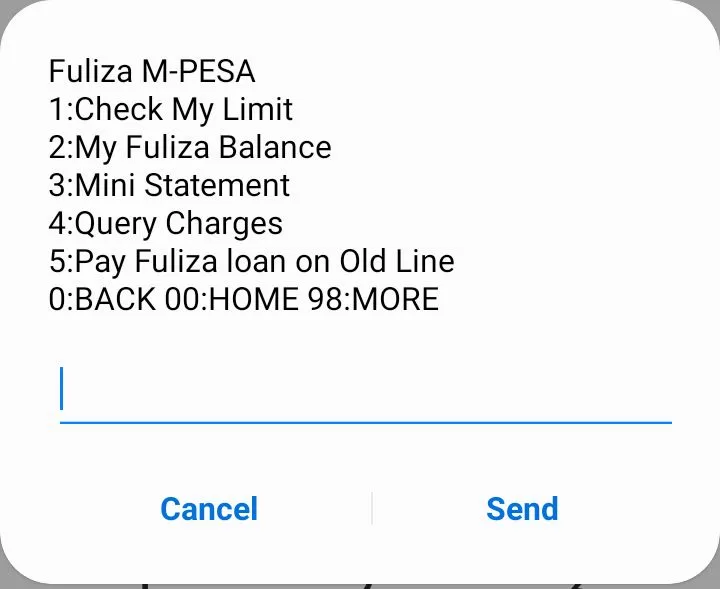 You will then receive a message from Safaricom shortly.
That's is how you check your fuliza limit.
Now lets look at how you can fuliza mpesa loan;
How to fuliza your assigned limit
In a few simple steps you will understand how to fuliza mpesa loan step by step.
Step 1: Head over to your phone safaricom toolkit
Step 2: On the menu click "Mpesa"
Step 3: Select " Send Money" option
Step 4: Enter "phone no." 07xxxxxxx- then press Ok
Step 5: Enter Amount you wish to send
Step 6: Enter your Mpesa pin
Then wait for M-pesa to send you a message from fuliza to complete your transactions.
Step 7: Select "Yes"
Your transaction will be successful. That's how you fuliza your fuliza mpesa loan limit.
---
Quick Tip
You can't fuliza to another number if still have some funds in your M-pesa account. Remember fuliza completes transactions for insufficient funds.